Amenities
1001 nights, Marrakesh, the orient … sari above the bed, plaster on the walls, built-in cupboard, open rainforest shower. The room is located in the basement with plenty of  light coming in through the glass door and the window. And the Werner Panton chair is a real classic.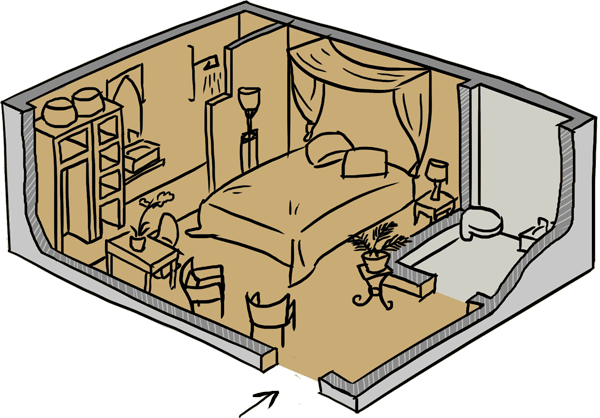 Basics
1 - 3 persons
breakfast included
non smoking room
Kind of beds
Location of room
Souterrain
Furnishings
Air conditioning
25m2 plus 2m2 toilet
shower in the room
separate toilet
hair dryer
L'Occitane toiletries
SAT TV
WIFI
desk
Book online
Rates

High Season

€ 105
€ 115
€ 125

Low season

on request
Our breakfast
Everything you need for a good start to the day
A big Indonesian teak table where people meet in the morning. Our highly praised home-made muesli, and delicious jam made from fruit from the garden. Our jam assortment includes apricot with lots of rum, cinnamon and cardamon, quince and pumpkin with rosemary or strawberry lavender.
The coffee we get from a small place at Lago di Garda, Lucafe, which makes exquisite coffee pods for our small red espresso machine. If you drink one cappuccino, you will most likely ask for another one.
We will prepare any egg dish for you on the spot. The food is then served on hand-made pottery from Israel and you use beautiful exquisite copper cutlery from India. Tea and coffee in cups from Japan. Everything blending harmoniously.
Breakfast that's worth getting up for. Some people would even call us breakfast and bed rather than bed and breakfast.
The bed
Hästens Boxspring
Sleep in our room imagination in a luxury box spring bed from Sweden from Hästens. The Superia bed middle comfort was handmade with the finest natural ingredients, inside the wooden frame you will find a double spring system and therefore comfort and support are simply optimal.
Feeling weightless you drift into the best sleep you'll ever have. Hästens stands for perfect sleep from Scandinavia and follows the spirit of excellence since 1852. If even the royal court of Sweden sleeps in their beds….well, god natt och dröm sött!
Local activities
Old Danube River, Vienna's number one recreation area, is just at the end of our street!
Recreation
Jogging, swimming, sailing, surfing, cycling, inline skating or simply going for a walk – everything possible next to the Old Danube River, just around the corner. Rent a sail boat or enjoy a picnic in a rowing boat. On a full moon night you get a bottle of Prosecco along with the boat.
Alte Donau
Shopping and entertainment
The Donauzentrum is a huge mall with more than 260 shops offering top brands with the latest in fashion and lifestyle. There you can find a large selection of restaurants and a cinema. And all just a 5 minute walk away from the bed and breakfast.
Donauzentrum
Dining
Again and again you will run into charming restaurants on the banks of the river. You can enjoy the sunset while you have dinner served at tables on a wooden float. In winter, when the water freezes, you can watch the ice skaters making pirouettes.
Ufertaverne